Elegant laminate in dark brown
Dark brown laminate conveys cosiness
Light-coloured laminate? Dark-coloured laminate? Laminate in a real-wood look? Or laminate in a tile look? No matter how you imagine the flooring for your home or office, you will find it at LOGOCLIC®. Because here you have a large selection of different laminate floors and decors. Dark brown laminate conjures up a cosy and warm atmosphere in the room and can be easily combined with many furnishing styles. Discover the advantages of dark brown laminate at LOGOCLIC®.
Influencing the character of the room – laminate in dark brown
The floor covering has a major influence on the atmosphere of the room. So before you buy, be clear about the style you want to achieve and about the lighting conditions and size of the room. Dark brown laminate, for example, makes your room look smaller, which means rooms that are dark by nature do not benefit from dark flooring. Mainly, dark brown tones convey a lot of cosiness and a homely room atmosphere, especially dark brown laminate with striking grain conveys a rustic and slightly quaint ambience.
Dark brown laminate – more susceptible to stains than light brown?
Are you wondering whether stains and streaks show up more quickly on dark-coloured laminate? LOGOCLIC® laminate has an impressive surface quality and scores with its ease of maintenance. Dark colours are more problematic, especially when it comes to dust, because the dark background makes it visible more quickly. But you can clean dark brown laminate in next to no time using a vacuum cleaner or damp cloth. Dark brown laminate is also spared scratches, because laminate flooring from LOGOCLIC® is robust as well as impact-, abrasion- and scratch-resistant.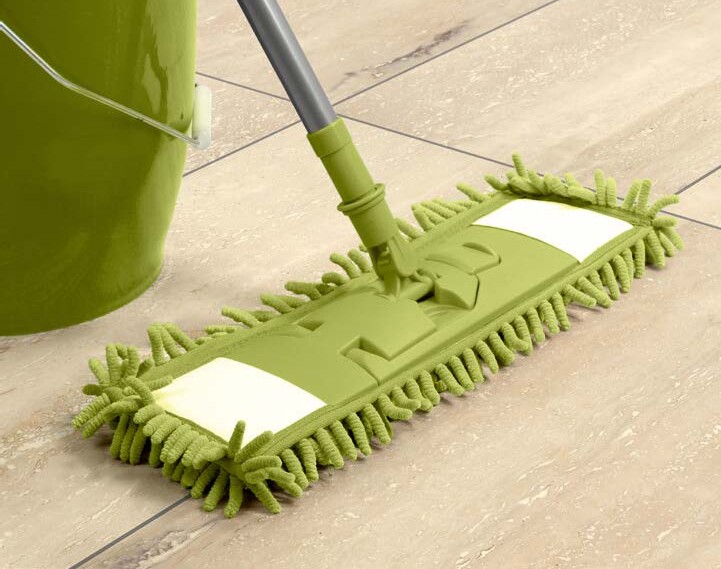 Take a look at dark brown laminate from LOGOCLIC®
You can get a wide range of dark brown laminates from LOGOCLIC®. The Vinto product line has floors that are ideally suited for rustic furnishings. Dark brown laminate from the Ceramico line is available for lovers of the tile look. Dark brown laminate in wood look is available in various decors, from oak to chestnut and walnut.
If you have decided on dark-coloured laminate from a product line, visit a BAUHAUS near you and view the laminate close-up on site. There you can see the quality of LOGOCLIC® with your own eyes and also touch it with your hands to convince yourself of the feel, which is confusingly similar to real wood.