Cover strips for laminate flooring round the picture off
LOGOCLIC® offers a large selection of high-quality and functional skirtings for perfect finishes and harmoniously designed transitions to adjacent surfaces. The wide range of profiles and cover strips is ideal for various installation situations. Take a look at the different skirtings from LOGOCLIC® and round off the appearance of a high-quality floor.
Skirtings to match your floor covering
No matter whether you have carpet or real wood laminate laid in your four walls: with skirtings from LOGOCLIC® you get an all-round perfect floor. Depending on your wishes, you will find skirtings in different colours such as white, light brown or dark brown. In addition, the LOGOCLIC® range includes cover strips to hide cables or simply to create a beautiful finish to the floor. Round, rectangular, hollow or angled – take a look at the skirting product range.
Not only beautiful but functional, too – skirtings from LOGOCLIC®
Flooring strips and skirting boards are not only the visual icing on the cake, they also make annoying cables disappear. Go for an external duct strip instead of an external cable duct! This way you can hide the "cable clutter" of electrical appliances in no time at all in a clever and attractive way.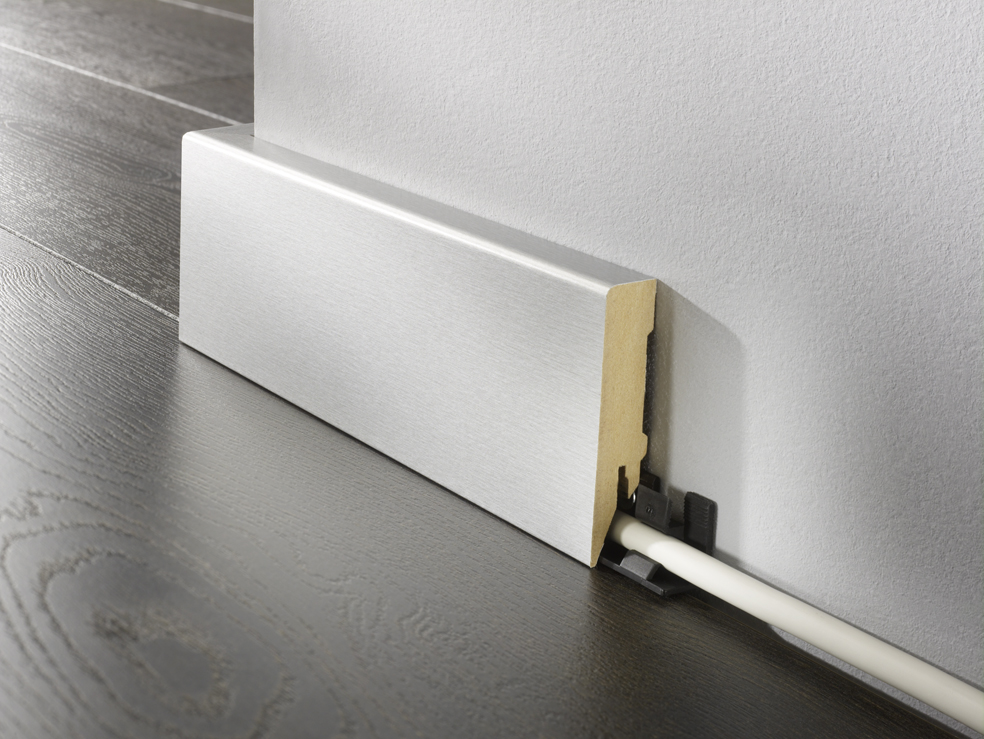 Cover strips to suit your taste
You will not only find an extensive selection of laminate, you are also spoilt for choice when it comes to cover strips. LOGOCLIC® not only offers you different colours, you also have to choose between different profiles. Do you like it simple? Then choose a round skirting board. Would you prefer something fancier like our trend skirting boards? On the other hand, do you prefer a modern, straight style? Then the edged cover strip is recommended for you.
Have you found what you are looking for? Then visit your nearest BAUHAUS and buy the skirting you need on the spot!