Laminate usage classes
Which laminate floor suits your needs?
When choosing the perfect laminate flooring, appearance plays a major role. After all, laminate offers a wide choice of decors, colours and surface finishes. However, it's important to remember to take the usage class into account as well. Find out how to find the right usage class for your needs and what you have to pay attention to in order to enjoy our flooring for as long as possible.
You shouldn't only look at the floor when you are bashful. After all, it is the basis of your home furnishings and has a major influence on the ambience of your home. Here you will find tips on the factors to be considered in order to find a high-quality laminate floor.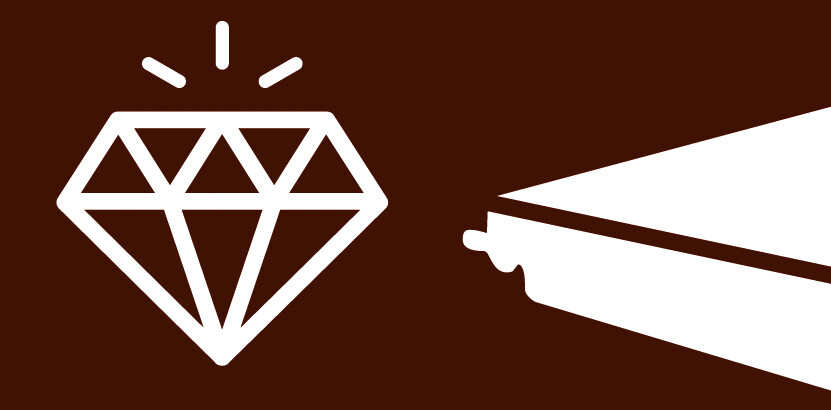 What does the usage class number mean?
An overview of laminate usage classes
Depending on the area of use, a floor has to withstand different loads. At the end of the day, floors in areas which are frequented more often such as corridors of open plan offices are subjected to a higher load than in the bedroom or basement.
With the help of the usage class (NK) – also known as the wear class – you can see directly what demands the laminate flooring has to meet. By stating the two-digit usage class in accordance with the standard DIN EN 13329, the manufacturer informs you about the classification of the floor and gives you information about the possible areas of use.
The first digit indicates whether the floor covering is intended for private use (2), commercial (3) or industrial use (4). The second number 1 - 3 describes the load capacity. The higher the heavier: light – normal – heavy.
In short, the wear classes of laminate are divided according to the resistance as well as the abrasion resistance of the flooring.
Usage class 21 to 23: laminate floors in these wear classes are intended exclusively for use in private living areas.
NK 31 to 33: Floors in this usage class are available for the use of laminate use in public and commercial areas.
Laminate from LOGOCLIC® has at least usage class 31. This means that laminate floors from LOGOCLIC® can always be used both for residential and commercial areas.
An overview of the intensity of use of laminate
You are probably wondering what exactly is meant when we talk about light, moderate or intense use of laminate flooring.
Usage classes of laminate flooring in private (residential) areas:
Usage class 31 / usage class 32 / usage class 33 are for all residential areas with intensive use:
Suitable for rooms with low wear such as bedrooms, guest rooms, pantries as well as rooms with moderate use such as children's rooms, living rooms, dining rooms and rooms which are used intensively such as hallway, kitchen, entrance, stairs
Usage classes for laminate in the commercial sector
For commercial areas with low wear: for example hotel rooms
For commercial areas with moderate use: for example conference rooms, offices, doctors' surgeries, small retail businesses
For commercial areas with intense use: for example sales outlets, department stores, sales rooms, reception rooms, office hallways
Is usage class the same as abrasion class?
No, even if both classification types make statements about the load-bearing capacity of the laminate floor, they are two different things. Whereas the usage class describes the possible wear of the entire panel – from stabilising layer through coreboard to the surface – the abrasion class only makes a statement about the scratch resistance and wear-resistance of the wear layer. As a rule of thumb, however, it can be assumed that a laminate or vinyl floor with a higher usage class will also have a higher abrasion class.
Now that you have been enlightened about the basics of laminate classification, you should find out which LOGOCLIC® laminate floors are best suited for which area of the building before you buy.