Advantages of laminate
The floor that fits in with your life
The choice of a new floor needs to be well considered. After all, it should ideally be the reliable basis of living or working spaces for several decades. There are many situations that can push the floor to its limits. However, by choosing laminate from LOGOCLIC® you are making a good decision. The advantages of laminate flooring are almost as varied as the possible design options.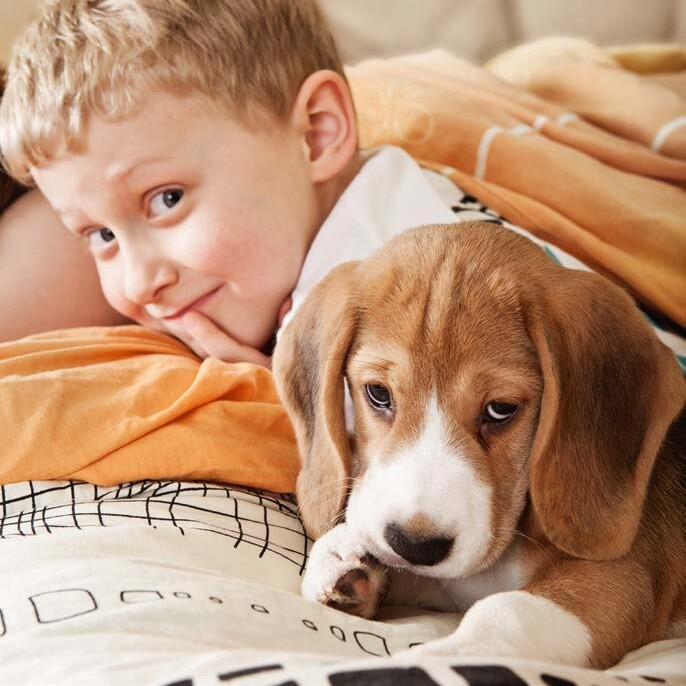 Laminate – even able to cope with extreme situations
A major advantage of laminate is its robustness, which means that the floor covering can withstand even extreme situations unscathed:
a big party with friends in your own home would be a great event if it weren't for the ladies who don't like to take off their high heels. Or the red wine that might drip next to it at a late hour – or cigarettes that accidentally fall on the floor. Not to mention the neighbours who complain about the volume and loud noises of the heels on the floor.
With LOGOCLIC® laminate flooring, you can enjoy such parties in a relaxed way and concentrate on the essentials!
Laminate flooring advantages: laminate flooring from LOGOCLIC® can do more
We would like to give you a closer look at the advantages of laminate flooring, because this floor covering is a true all-rounder whose possible uses are almost limitless. On the outside, it looks like nature, but on the inside, it's a true high-tech product.
Products developed exclusively by LOGOCLIC® ensure that you, your guests, children and pets can feel completely comfortable in your home. We at LOGOCLIC® think: Laminate flooring should adapt to your life and not the other way round!
Almost every LOGOCLIC® product has these advantages
Laminate flooring from LOGOCLIC® is made from around 90% wood that comes from sustainably managed forests and is PEFC certified. This makes laminate flooring good for the environment.
LOGOCLIC® laminate is a brand-name floor Made in Germany
LOGOCLIC® laminate flooring stands out on account of its life-like look and can hardly be distinguished from a real wood or stone/tile floor. The deceptively real textured surfaces of the laminate look and feel as if they came from nature.
Laminate from LOGOCLIC® is particularly low-pollutant. No pesticides, heavy metals or other harmful substances are used during processing, which is why the floors are all Blue Angel and TÜV-certified.
Laminate flooring has an excellent price/performance ratio compared to parquet flooring and can score with an unbeatable price.
LOGOCLIC® laminate flooring is very easy to lay yourself thanks to the click system. You save money because you don't have to hire a craftsman.
If a panel is damaged, it can be easily replaced and repaired and you do not have to lay a completely new floor.
Thanks to the LOGOCLIC® Protec principle, a special moisture protection, you don't have to worry about spills. In addition, Protec makes laminate particularly easy to maintain. You can simply wipe it with a damp cloth and don't have to worry about renewing the seal.
LOGOCLIC® offers special impact sound insulation which reduces room noise, thus making it especially suitable for residential applications. The impact sound insulation even reduces footfall sound in the rooms below. LOGOCLIC® laminate is especially quiet and was developed for laying in upper storeys.
Finally, modern laminate has other advantages properties. It is anti-static, resistant to UV light and colour -fast, as well as particularly flame retardant (fire protection class CflS1).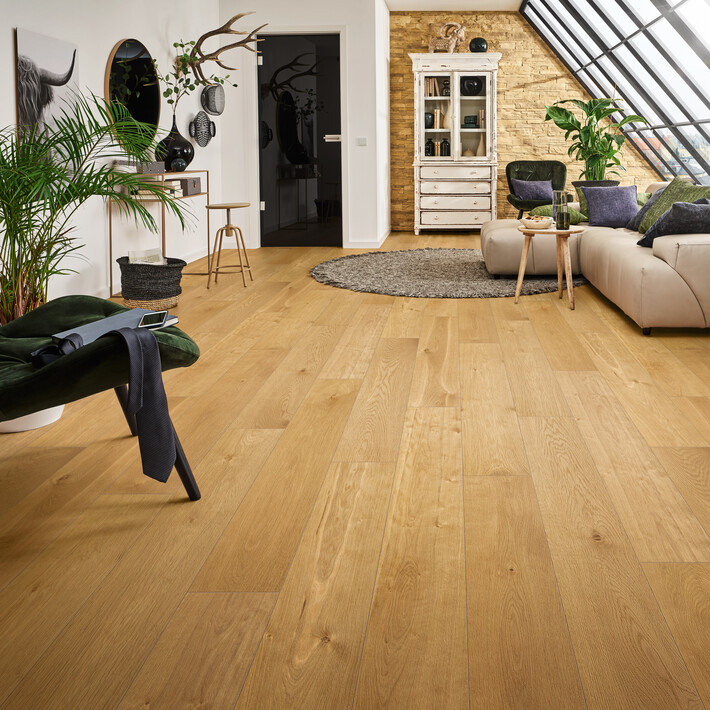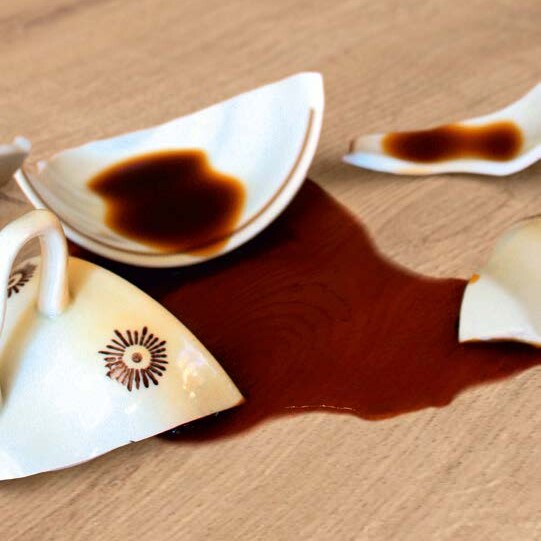 LOGOCLIC® products withstand life's challenges
You should be able to enjoy your life within your four walls without having to worry about the floor. We at LOGOCLIC® have already thought about this and are proud of the result: laminate flooring that takes everything in its stride and always looks like new. What's more, laying it is child's play.
LOGOCLIC® laminate floors are extremely resilient and at the same time very easy to maintain: you can simply sweep away loose dirt with a broom or vacuum it away with a hoover. If the laminate floor shows signs of heavy soiling, such as grease stains, footprints or heel marks, these can be easily wiped off with a damp cloth or mop.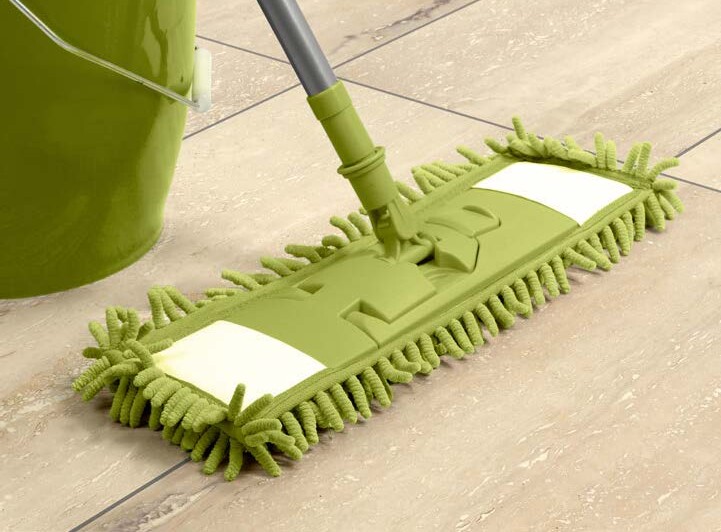 Price and quality are right with LOGOCLIC®
A high-quality floor covering is the basis for a cosy home – not only in the literal sense. Don't be penny-wise and pound-foolish when it comes to planning a new floor for a renovation or new build.
Difference between parquet and laminate – price is the deciding factor
Price is often the decisive factor when choosing between parquet and laminate. After all, laminate flooring is only inferior to parquet in a few visual respects. Laying laminate flooring from LOGOCLIC® is quick and easy. Thanks to the Click system, even amateur DIY-ers can easily lay LOGOCLIC® laminate themselves. When you choose laminate flooring, you not only save on the purchase, but also because you don't have to hire a craftsman to lay it.
Yet the price is not the most important factor
A feel-good atmosphere thanks to laminate
The greatest desire when renovating or building is to purchase high-quality products at an affordable price. Of course, when it comes to laminate, it' not the price that should be the top priority, but the feeling of well-being. Laminate flooring conjures up a pleasant living climate in no time at all. What's more, laminate flooring from LOGOCLIC
®
is extremely resilient, easy to install and you can choose from a
wide range of different colours
and surface structures.
A feeling like real wood
When laminate is well made, you can hardly tell the difference between real and imitation. Laminate flooring from LOGOCLIC® is of very high quality. The flooring is resilient, versatile and, thanks to the high quality and special workmanship, it also comes very close to feeling like real wood.
Important criteria when choosing laminate flooring are:
Maximum thickness
Appearance