Elegant laminate in white
Reserved and elegant: white laminate beautifies the room
The right flooring has a major influence on the living situation. Depending on the choice of flooring, you can achieve a friendly, modern, rustic or understated style. White laminate is ideal for smaller rooms with poor lighting conditions. But it also adds spaciousness to larger rooms. White laminate matches almost any style of furnishing, and furniture, no matter what colour or style, can also be combined perfectly with white laminate. Because white is simple, neutral and goes with every colour. Find out here about white laminate from LOGOCLIC®.
Laminate in white opens up the room
No matter whether you are looking for laminate for the office or your home, you will find what you're looking for at LOGOCLIC®. You can get white laminate in different decors, from real-wood through to a tile look. White laminate is ideal mainly in small rooms with little light, because it opens up the room visually and makes it appear more generous. But white laminate is suitable for large rooms, too, because it gives them a certain hall character, conveys generosity and elegance.
White laminate is modern, simple and neutral
In contrast to warmer tones such as reddish brown, white laminate makes rooms appear somewhat cooler. But laminate flooring in white also conveys an atmosphere full of elegance and modernity. Here, it all depends on how you play with the furnishings. Do you like it simple? Then choose minimalistic furniture with a certain straightness. Do you prefer a more fanciful look? Then combine pastel colours, lots of fabric and rounder shapes with white laminate. White laminate goes with almost any interior style, but for colonial style you should choose a different decor.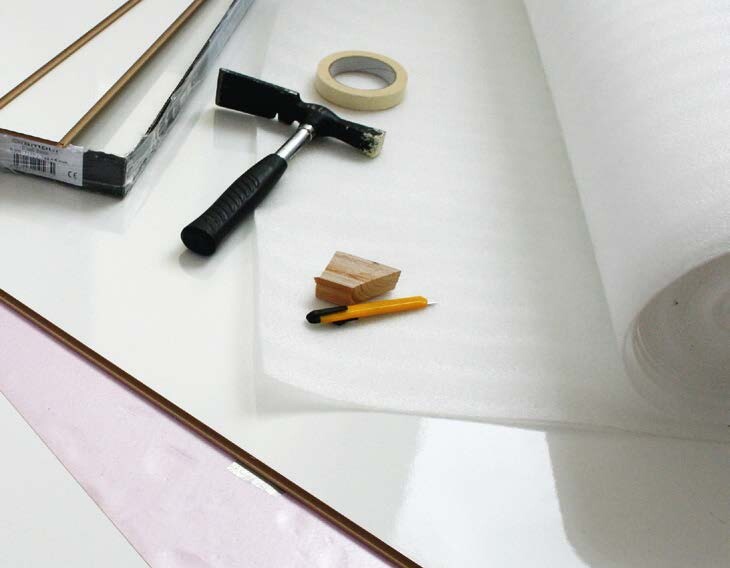 Have you decided on white laminate? Take a look at the product lines from LOGOCLIC®. Find out more about the matching accessories and you have everything you need for a floor covering.