Can I wheel my office chair on laminate flooring?
Whether for a private office at home or for the office at work: laminate is suitable for both private and commercial use. With a view to possible abrasion damage, the question arises as to whether you should use an office chair on laminate. The good news is that all LOGOCLIC® laminate floors are assigned to abrasion classes AC3, AC4 or even AC5! This means that these floor coverings are particularly hard-wearing and wear-resistant. Nevertheless, you can take measures to prevent abrasion from chair castors on the laminate floor. Here are two ways to prevent premature wear and tips for using chairs on laminate in the office.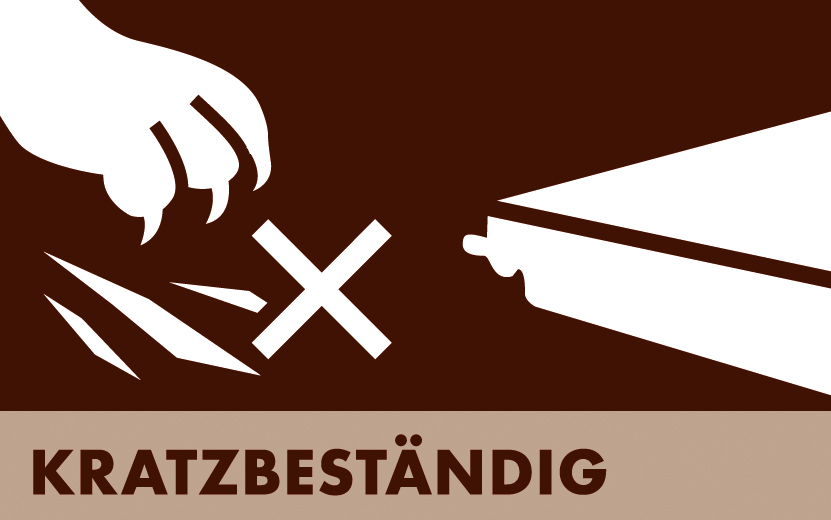 Office chair on laminate – how to avoid abrasion of your floor
Buy a floor protection mat to place under the desk and desk chair. These transparent protective mats protect the laminate from damage and allow you to still enjoy the flooring. Make sure you place the mat so that you have enough space to avoid rolling round on the laminate with your chair.
As an alternative to the mat, rubberised castors are suitable for the office chair and can be bought from your local BAUHAUS specialist centre. These so-called hard floor castors are very easy to fit. You can easily replace the plastic castors that were originally fitted by rubber ones. Be careful: over time, sand and dirt particles can get stuck in the rubber and subsequently lead to abrasion. Check the castors from time to time or opt for the floor protection mat.
Abrasion resistance of laminate flooring
LOGOCLIC® laminate is resistant to impact-, abrasion- and scratch-resistant. When buying, also pay attention to the abrasion and usage classes that meet your requirements. Because there is laminate flooring that is only suitable for private use and there is laminate flooring that is made for intensive commercial use. The higher the usage and abrasion class, the more durable your laminate flooring will be. With robust laminate floors from LOGOCLIC® you can also use the above-mentioned options to provide additional protection for the floor against abrasion caused by the office chair. This way, you also play it safe as far as the warranty is concerned – which is up to 30 years with LOGOCLIC® by the way!
Selection of laminate floors from LOGOCLIC® suitable for chair castors