What is clic laminate?
These days, laying laminate is child's play. The reason: the simple clic system. Tongue and groove connect the individual panels. In the past, floor boards were laboriously glued together. But now the panels are simple "clicked" into one another and they are connected.
Clic laminate has many advantages
Clic laminate is a glueless connection system. It offers the following advantages:
Clic laminate saves time – because it is quick and easy to lay.
Clic laminate does not have to be glued, it holds in place with a "click" of tongue and groove.
As easy as the laying is, as easy is the removal of the laminate. You can easily take the flooring with you when you move into your new home.
Because it is so easy to install yourself, clic laminate also saves you money – because you can lay the laminate flooring yourself and don't need a craftsman to do it for you.
If a laminate panel at the edge of the room is damaged, the laminate flooring can be easily repaired. Replace the damaged panel quickly and easily by a new one.
The tongue and groove connection prevents gaps from forming with clic laminate.
Laying clic laminate – three variants possible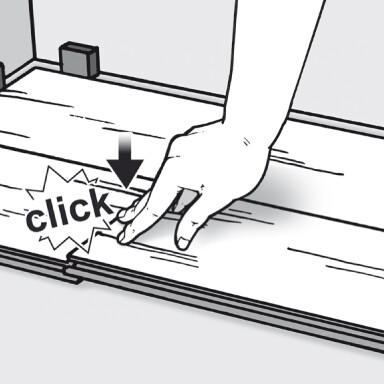 Glueless laying
The simplest and fastest variant for laying click laminate is glueless laying, where the panels are simply clicked into one another.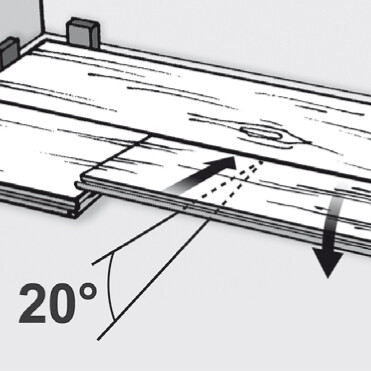 Laying with ClickguardTM
Another possibility is
laying with
Clickguard™
. This permanently protects the edges against moisture. This prevents the floor swelling and forming ripples. However, the floor can still be dismantled again.
Laying with glue
Laying with glue is also possible. This offers permanent protection against moisture. But it is much more complex to lay and the flooring can no longer be dismantled.
Find out about the large selection of LOGOCLIC® laminate flooring. In addition to different colours, you can choose from many different decors. So you are sure to find the right clic laminate for your style of living. You can take a close-up look at the floor you want and purchase it from your local BAUHAUS specialist centre.