How much wall gap should I keep when laying?
When laying laminate flooring, it is advisable to keep a clearance from all fixed parts in the room. This applies to walls as well as door frames or heating pipes. The reason for this is that laminate from LOGOCLIC® consists of around 90 percent wood-based materials. This swells or shrinks depending on the temperature and humidity in the room. This can result in unsightly ripples or large gaps in the floor covering. And wall gap should also be maintained for insulation.
The dimensions of the expansion joint
Avoid ripples in the laminate flooring and keep your distance! An expansion joint should be at least one material thickness away from walls, pipes and other fixed objects in the room. With LOGOCLIC®, a joint of around 12 to 15 mm is recommended. These dimensions can also be applied to laying the insulation.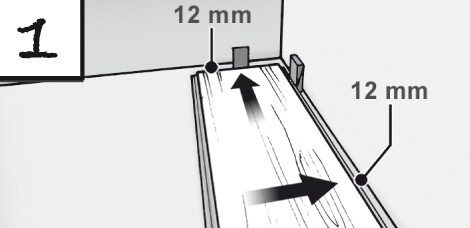 Laminate accessories for concealing the expansion joint
You will find suitable accessories in the LOGOCLIC® range to conceal the wall spacing or clearance to heating pipes. Skirting boards, for example, are available in many different sizes, heights and decors – to match your laminate flooring. But pipe sleeves and profiles also help to hide the expansion joint. LOGOCLIC® accessories help to conceal unsightly wall spacing or joints quickly and easily.