How thick is laminate?
Laminate from LOGOCLIC® can be bought in different thicknesses. Starting from laminate 7 millimetres thick through to 10 millimetres thick and sizes in between. When choosing, personal needs and requirements should be balanced with the properties of the respective ranges.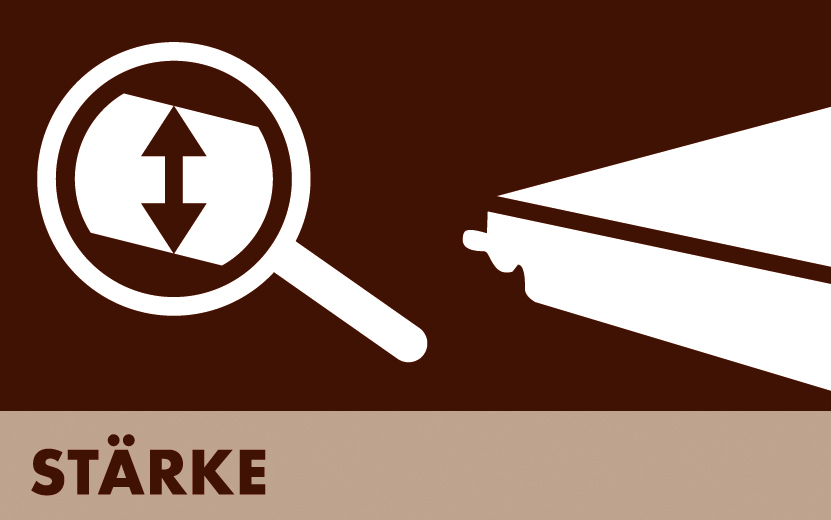 The thicker the better?
The basic rule is that the thicker the floor, the better the quality, because the profile stability and the swelling and shrinkage behaviour are better with thicker material. However, laminate in a thinner thickness from the right manufacturer can also be convincing. With high-quality workmanship, thinner laminate panels can also have similarly good properties as thicker ones.
When planning your new floor covering, also consider the space between the subfloor and the door. With the right choice of laminate, you can avoid having to shorten the door frame or door leaf to fit the floor.
Tips for recognising the quality of laminate flooring
There are a few criteria you can use to determine the quality of laminate flooring:
How many layers is the laminate made up of, and what are these layers?
Laminate flooring from LOGOCLIC® is always made up of 5 to 6 layers – depending on whether impact sound insulation is integrated or not.
Are the individual layers connected through low pressure or are they pressed together firmly?
LOGOCLIC® is manufactured on the basis of so-called HDF boards. These High Density Fibreboards made of wood have an especially high density and are thus ideal for use in laminate flooring.
For good laminate flooring, the warranty service should apply for at least 10 years.
At LOGOCLIC® you will find floors with 10, 15, 20 and up to 30 years warranty. Find out more about the warranty services from LOGOCLIC®.
An interplay of all these factors will help you find a high-quality laminate floor in the thickness you want or need. Find out about the properties of the individual products in our laminate flooring overview and read more about the properties of LOGOCLIC® laminate.
You will find more information about the different laminate floor thicknesses from LOGOCLIC® here: