During installation, the hammer fell on the floor and now a piece of the surface has chipped off. What can we do without replacing the entire floor?
Laminate flooring from LOGOCLIC® is resistant to impact, scratches and abrasion and is very robust. But it is not a miracle floor and so even this flooring can show scratches or dents over time. Yet laminate is very easy to care for – and that includes repairs.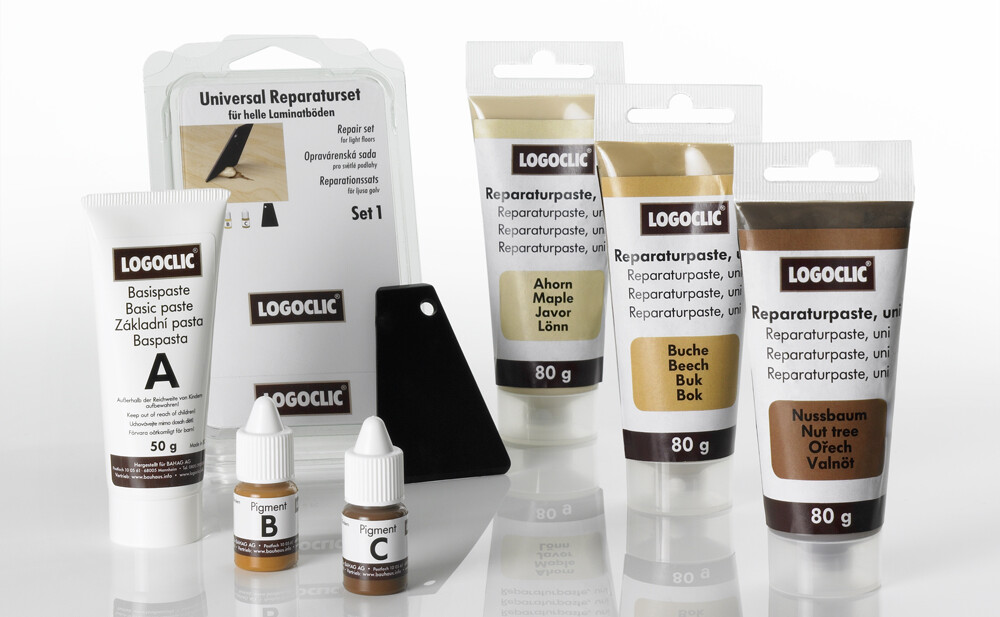 Repair options for scratches in laminate flooring
Thanks to the practical clic system, laminate is child's play to lay – you don't need a craftsman to do it. And as easy as the floor is to lay, it is just as easy to remove again. If the superficial damage is near the wall or at the edge of the floor, you can easily replace the affected panel. If the damage is in the middle of the floor, It's too much effort to replace a single panel.
If the damage is in the middle of the floor, it's best to use the laminate repair kit. This comprises a base paste, colour pigments and a repair paste. You can mix these components together to create the desired colour shade and use it to easily repair the scratch or dent. The paste hardens and you can polish the area with a non-woven cloth. And the damage is no longer noticeable.
LOGOCLIC® repair kits are ideal for repairing all hard floors. Just ask a sales advisor at your local BAUCHAUS specialist centre.