Visa upp profilen!
Profiler för harmoniska övergångar
Med LOGOCLIC® profiler kan du utjämna oregelbundenheter, skapa harmoniska övergångar mellan olika golv, få idealiska avslutningar och mycket mer. Nedan beskrivs de olika möjligheter som de många olika profilerna från LOGOCLIC® ger utrymme för.
Med profilerna från LOGOCLIC® skapar du harmoniska övergångar, utjämnar oregelbundenheter eller skapar perfekt avslutningar.
För harmonisk, flexibel övergång mellan två lika höga golv använder du övergångsprofiler.
Anpassningsprofiler skapar en friktionsfri övergång mellan olika höga golv.
Snygga avslutningar ute i kanten av golvet uppnås med kantprofiler.
Information om montering av profiler
Easy recycling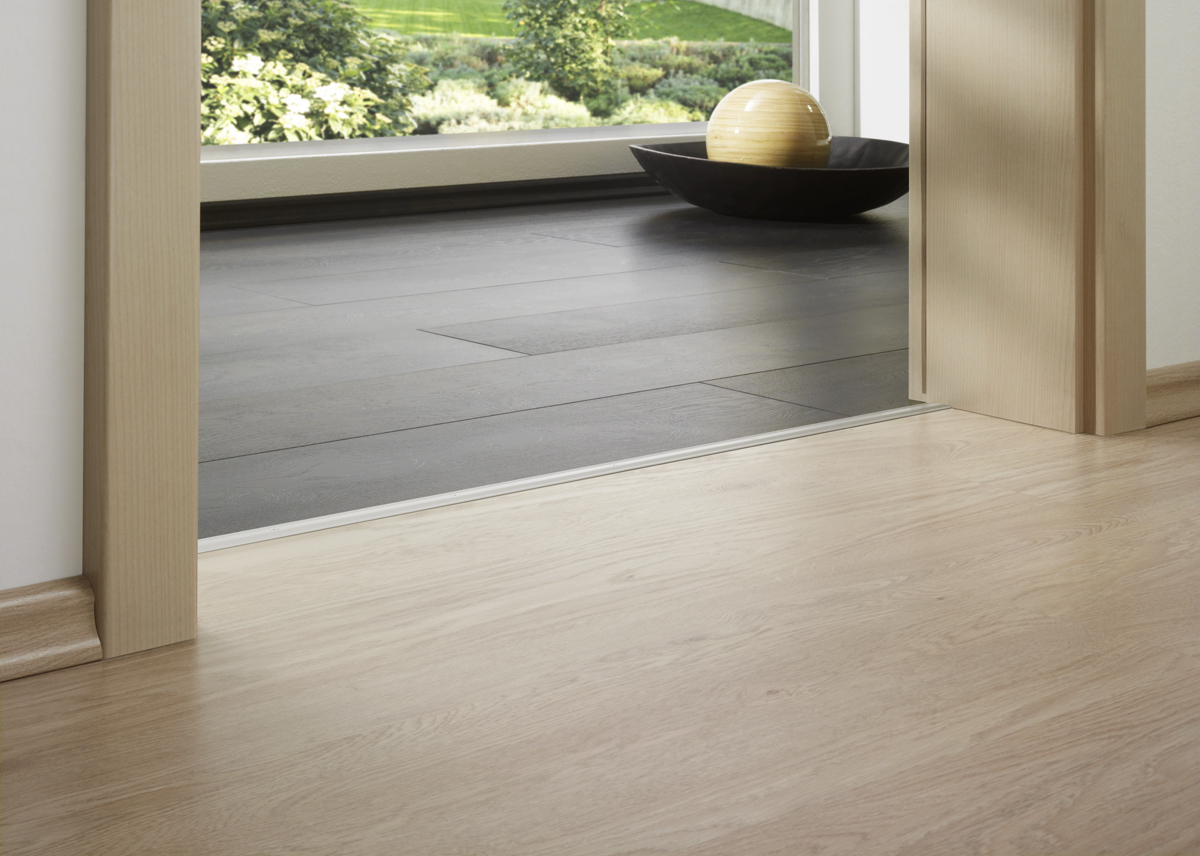 Du måste tillåta YouTube-laddning för att kunna se denna video
FAQs
The transition from one room to another in our installation situation is over 15 mm. How can such a height difference be bridged?

Often the floor level of two rooms is different. This difference in height can be a few millimetres, but sometimes more than a centimetre. In this case, you either need special adapter profiles to bridge the gap between the two rooms or you make do with lift-up blocks.

Lift-up blocks are one way of compensating different levels between two rooms. As the name suggests, these installation aids are small blocks that fit into each other, usually made of fibreglass-reinforced plastic.

LOGOCLIC® also has so-called Champion-flex profiles in its range – these allow a height difference between two floor coverings or rooms of up to 23 mm.
According to the laminate manufacturer's instructions, I have to leave an expansion joint in the middle of the room. What is the easiest way to bridge this "gap"?

Laminate flooring moves – this means that the laminate expands over time due to the temperature in the room. So-called expansion joints must therefore be taken into account when laying laminate flooring. To bridge these joints in a visually appealing way, there are skirtings that cover the distance to the wall and profiles that cover the transition to another room or to another floor covering.

There are various types of profiles in the LOGOCLIC® range. Transition profiles are best suited for expansion joints. These are available in different widths and heights, different colours with different installation options. LOGOCLIC® transition profiles can either be screwed or glued.
What are profiles needed for?

Different floor coverings are often laid in a flat or house. And even if the same floor coverings are used throughout the house, they are not always laid continuously in all rooms. In both cases, joints occur. These want to be hidden and covered. On the one hand, for an attractive appearance, on the other hand, to avoid tripping hazards. This is exactly what profiles are needed for. These create smooth transitions between different floor coverings and ensure perfect edge trims.
What types of profiles for floors are available?

Es gibt folgende Arten von Profilen:

Transition profiles: from floor to floor – requires same height
Adapter profiles: from floor to floor – compensation of differences in height possible
End profiles: laminate to adjacent components (wall, balcony etc.)
Angle profile: finishes off stairs and steps
We have underfloor heating throughout the house and cannot drill into the screed. How do we fix the transition profiles?

Two options are available for this:

Using assembly adhesive: LOGOCLIC® profiles can not only be attached using screws, most profiles are also suitable for the adhesive method. If this is the case, there are special adhesive grooves on the underside of the profiles. These serve to enlarge the adhesive surface. Attach the transition profiles quickly and easily using assembly adhesive (note setting time).
Self-adhesive profiles: Some of the profiles are also self-adhesive and do not require any external adhesive application. Remove the adhesive film just before attaching the profile, then firmly attach the profile to the expansion joint. Prerequisite for this: the floors to be joined should have the same height.
I would like to make the tiled area under my stove rounded and need a corresponding transition profile to the adjacent laminate.

Special products are needed to be able to round profiles. It doesn't matter whether you want to bridge a rounding at the tiled area in front of the stove, a column in the room or the round end of a carpet: in each of these cases, a bending profile or a bendable skirting board is necessary. Bending profiles are often made of aluminium or brass and can be bent by hand. In addition to the aluminium or brass version, there are also strips and profiles made of thermoplastic material.
Why an expansion joint for laminate?

Expansion joints are often also known as movement joints or dilatation joints. They are used to compensate for any swelling or shrinking behaviour of laminate flooring in larger floor areas. Coverings such as parquet or laminate can expand (swell) or contract (shrink) with temperature fluctuations or changes in humidity. These possible changes are compensated for by an expansion joint at door jambs, room transitions or to the wall. The expansion joint is approximately the thickness of the material – ideally around 12 millimetres.

For particularly large laminate areas – for example, from a length or width of eight metres – an additional expansion joint should be planned in the middle of the room to prevent the formation of ripples here.

Would you like to learn more? Then take a look at laying laminate.
We want to cover an unsightly staircase with laminate. Are there special end profiles for this?

Yes. Even stairs can be covered with laminate with a little skill. Since the panels have to be cut to the right width for this, an edge remains through all the layers of the laminate flooring, which is unsightly on the one hand and sensitive on the other. If you want to decorate or conceal this edge and protect it from external influences, LOGOCLIC® is the right choice for you!

The range of profiles includes special end profiles for stairs, so-called angle profiles. In the accessories section you will find an overview of the laminate edging profiles on offer. You can buy these exclusively in the BAUHAUS specialist centres. Please feel free to contact a sales consultant, who will be happy to answer your questions.